Movavi Video Editor, a handy and professional quality program.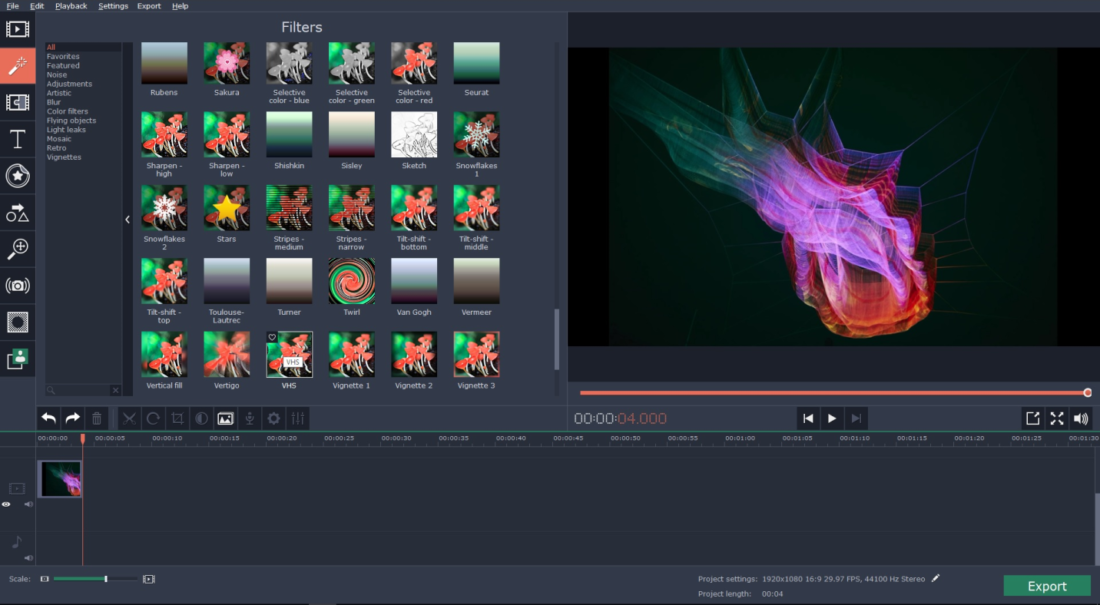 Looking for a clean and simple editor for video is difficult. Most of us are not ready to step up to final cut or premier, two of the most common professional-level video editing programs out there. We want to be able to edit videos and make them as professional as possible, but without the complexity and the cost. Movavi fills that need. We have gone through and tested many different video editors, but Movavi has the strongest balance between ease of use and quality of output. There is an old expression, "the right tool for the job" and Movavi is the right tool to produce professional results while staying in the easy to use zone. If you want to know how to make a movie, Movavi will show you really how easy it is.
Some of the features we enjoy are:
Unlike a lot of video editors, Movavi is pretty much "in your face" simple. It doesn't take much to figure out what you need to do by its well-laid-out controls. You can master the basics of the program without getting lost in the details in about 20 minutes.
It can import and export most of the main video formats that you will use.  It comes with a ready to use video and audio library to add something extra to your video. There are both Windows and Mac versions of the software. It even has a built-in YouTube upload to make life even easier.
It has an audio editor that allows you to massage the audio, adding effects, remove noise, fixing clicks or other audio issues. It also has what they call beat detection that helps match the tempo of your videos.
When you render a video, you can render it in HQ and the quality is as good as anything you have seen elsewhere. It also has built-in support for Intel acceleration. There is even a built in video stabilizer to help get rid of those shaky moments.
Small footprint and no bloatware
The Editor program itself is quite small for all the features it packs, and doesn't take up much room on the hard drive.  There was no bloatware installed with it (Praise be!). This is one of the biggest pet peeves we have.  If you aren't paying attention to all the buttons you click when you install some programs, suddenly you have installed something you never wanted in the first place and just feel violated. We appreciate greatly that Movavi has avoided this trap.
There are many professional filters to choose from for various. They can give you the right look you want for your video, to give it that nice finish and they are also fun to play with.
It will even make a montage video using a set of still images, as well as put provided audio behind the images. A nice way to make something quick and fast that looks professional.
There are many more features that you can dig into deeper as you learn. We just covered a few that we like for now. We rate Movavi video editor with full points. We have actually changed over from an open source quickie video editor to Movavi as our primary editor in-house now. So far it has met every challenge we have thrown at it and has quite surprised us on how well it has been thought out for some tasks. I suppose it shouldn't really surprise us as Movavi have been around a long time, and they have always had a good reputation for quality. We give the program 2 thumbs up.