The Pros and Cons of Owning a Pontoon Boat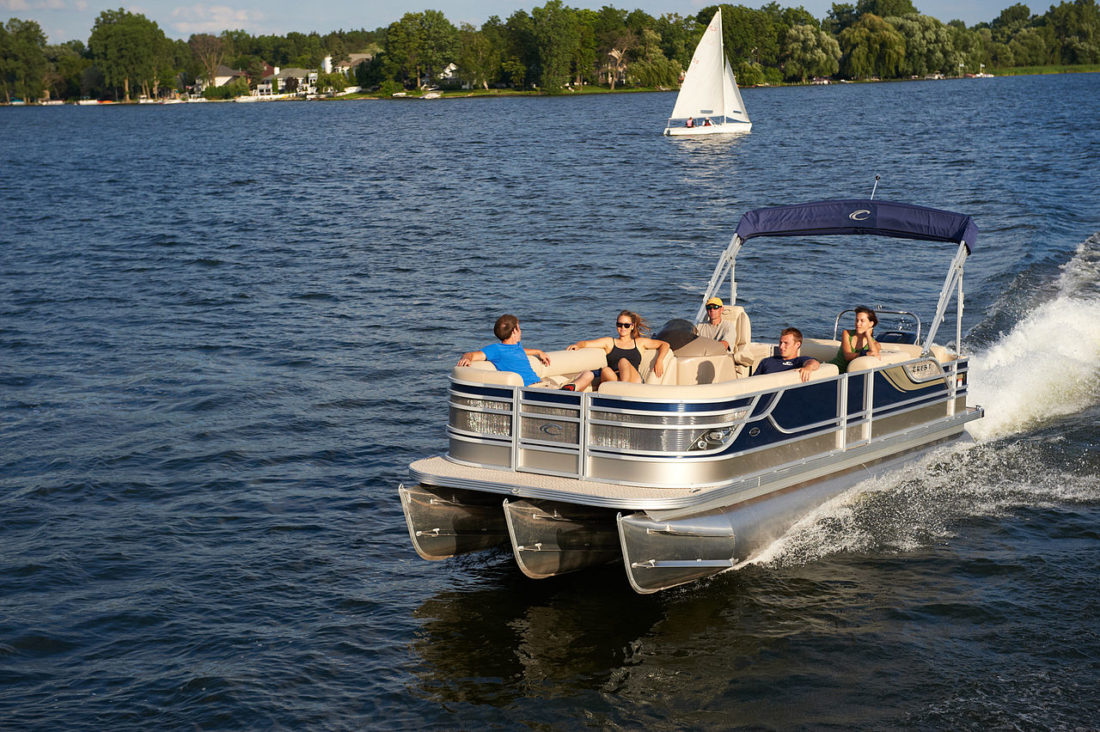 Deciding you want to be a boat owner is the first major decision you have to make. Once you decide you're on board with purchasing a boat, you then have to select the kind of boat you want. In your search, you'll inevitably run across pontoon boats. But is a pontoon boat right for your situation, wants, and needs?
In this article, we'll explore the pros and cons of owning a pontoon boat, as well as some things you should look for when buying one.
What is a Pontoon Boat?
Most people have their own idea of what a pontoon boat is, but this category has undergone some changes over the years. The basics are still the same – however, there have been a few improvements in style and performance.
According to Boats.com, "[A pontoon boat is] any sort of boat with a large, flat deck that's mounted atop two or more metal tubes called pontoons. Boats with three pontoons are sometimes called 'tri-toons.' These pontoons—or 'tubes' for short—contain a lot of reserve buoyancy and allow designers to create massive deck plans fitted with all sorts of accommodations, such as expansive lounge areas, stand-up bars, and sun pads. Better tube design has also allowed builders to put ever-increasing amounts of horsepower on the stern."
The Pros of Owning a Pontoon Boat
Family-friendly. Most pontoon boat owners purchase their boat with the intention of enjoying it with other people. Pontoon boats are great for the entire family because they're spacious, comfortable, and offer plenty of seating. The large, flat floorboard and gated entries also do a nice job of keeping young children inside the boat.
While some people simply cruise around and post up at a nearby beach, pontoon boats are fairly versatile. They make great fishing boats and, depending on the type of engine, can actually be used for watersports like skiing.
Pontoons are ideal for people who don't want to spend a lot of money with upkeep and ongoing maintenance. For starters, it's fairly easy to find and restore a used pontoon boat. And once you get it up and running, they're fairly durable and will last for years. You can do most of the work, and anything else can be passed along to a boat mechanic for an affordable price.
Pontoon boats really are one of the safer vessels around. They have a high fence with rail surrounding the entire boat deck, which makes it less likely that a child will unknowingly fall into the water. These boats are also much more stable than some other boats, which makes the chances of capsizing very low. Overall they are very safe.
The Cons of Owning a Pontoon Boat
Lack of speed. If you're looking for something fast and exhilarating, a pontoon boat probably won't cut it for you. The maximum speed on the average pontoon is 25-35 miles per hour. Some of the newer tri-toons will go a bit faster, but you aren't going to win any races.
Poor maneuverability. Don't expect to whip around tight coves in a pontoon boat. The turning radius is usually pretty poor – somewhere around 25 feet for a 22-foot pontoon boat.
Rough waters. While pontoon boats are incredibly safe in normal waters, they're ironically less safe than a traditional v-hull boat in stormy/choppy waters. In these conditions, the pontoon boat has a tendency to dive straight into the wave, rather than ride over it. This problem can obviously be avoided by getting off the water when storms are approaching.
Outboard noise. If you're purchasing an older pontoon boat, be wary of buying one with an outboard engine. While newer outboard engines are fine, the older ones can be extremely loud and unpleasant.

Finding the Right Pontoon Boat
So long as you're aware of some of the potential disadvantages, most people find pontoon boats to be a great choice. Having said that, your experience will largely be determined by which boat you buy.
When searching for a pontoon boat, there's a lot to consider. You'll obviously need to think about the passenger capacity and seating configuration, but also take things like boarding gates, bow deck, and storage into account.
Do your research, remain patient, and you should be able to find the perfect pontoon boat for your needs.
Pearl M. Kasirye is a writer at Kemistri.co, editor, and researcher who spends most of her time reading. When she isn't reading or working, she can be found sitting on her balcony writing her own novels or traveling.