Discover the Northern Territory on Nature's Way Road Trip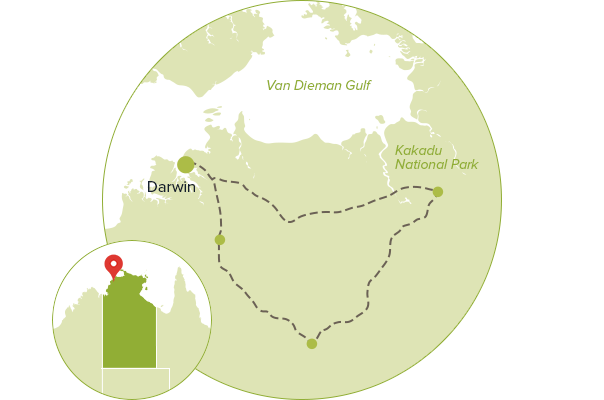 Nature's Way Photo Credit: Australia.com
When it comes to rugged road trips, few are more exciting and picturesque than Nature's Way road trip through the Top End of Australia's Northern Territory. This journey really allows you to get in touch with nature in some of the most untouched places in the world as you travel from Darwin through the Adelaide and Mary River wetlands, parts of the gigantic Kakadu National Park and the magnificent waterfalls and landscapes of Litchfield National Park. It's even easier when you grab a car rental from Budget. If you are a tourist to Australia, you might not know that the climate gets hotter and more humid the further north you go, so here in the Top End of Australia, it is quite warm and humid all year round, even during the winter dry season. Be sure to dress appropriately and keep plenty of water on hand; the humidity can be deceiving. Check out the 5 day sample itinerary we have detailed here, you can choose to follow this or you can make your own way.
The Northern Territory is very remote. When travelling here, read all the warnings about being prepared and regarding about crocodiles and bring emergency supplies including a spare tyre, extra petrol, sunscreen, and drinking water. If you are travelling through Aboriginal lands, you will likely need to obtain a permit ahead of time. Above all, enjoy your time here, it is a unique experience off the beaten path where you will make beautiful memories.
Nature's Way Road Trip Day One
Nature's Way Photo Credit: Australia.com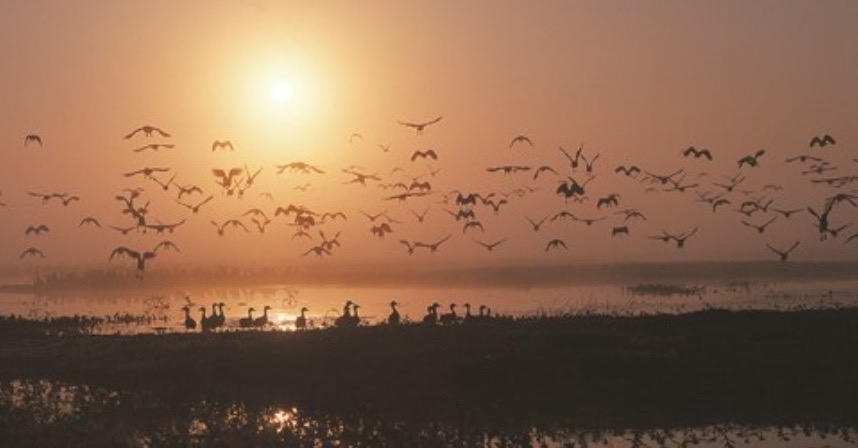 Nature's Way Photo Credit: NorthernTerritory.com
Day one of the Nature's Way Road Trip begins in Darwin and takes you 250 km east to Kakadu National Park. You will drive along the Arnhem Highway to Jabiru, which is the town in Kakadu. Along the way you might decide to stop at Fogg Dam Conservation Reserve which is a haven for wildlife on the lower Adelaide River.. Or you might decide to take the Jumping Crocodile Cruise where you will see some of the Top End's largest saltwater crocodiles jump out of the water. Accommodations in Jabiru include an Olympic size swimming pool, tennis courts, and a golf course.
Nature's Way Road Trip Days Two and Three
Nature's Way Photo Credit: NorthernTerritory.com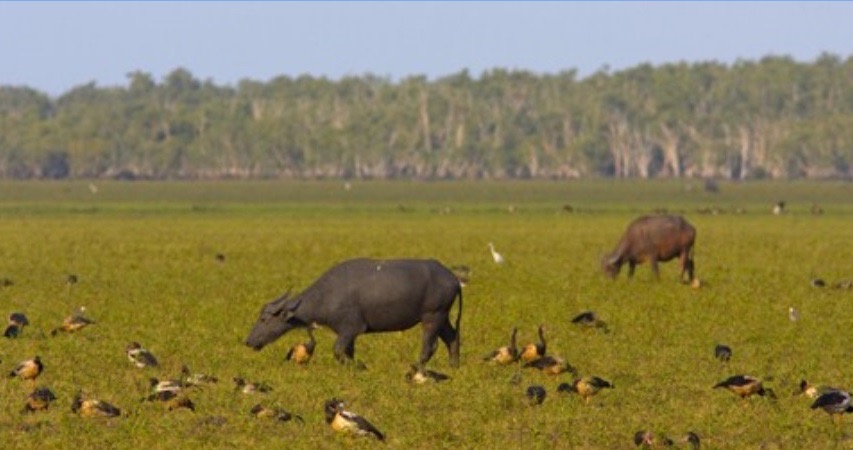 Nature's Way Photo Credit: NorthernTerritory.com
Kakadu is Australia's largest National Park; it is so big, you need a couple days here just to scratch the surface. There are 6 regions within the park. The scenery includes the Arnhem Escarpment, waterfalls, wetlands, billabong, and rock art galleries. You will see why this is a Heritage-Listed site with all the diverse plants and wildlife. Both guided tours and on your own adventures are available. Choose from bushwalking, hiking, barramundi fishing, rock pools, river cruises, scenic flights, crocodile spotting, Aboriginal Dreamtime tours, and more.
Like most places in the Top End, Kakadu National Park is only accessible during the dry season during the winter. Some of the most magnificent scenery in Kakadu National Park can only be seen from the air since it is unreachable by vehicle or on foot anytime of the year. The unique climate of Kakadu prompted the Aboriginal people who live here to name 6 distinct different seasons. Kakadu is large enough to spend more time than just two days here. If you choose to add on to your stay, you might seek out some of the swimming holes, Aboriginal nature tours, or hiking trails. .
Nature's Way Road Trip Day Four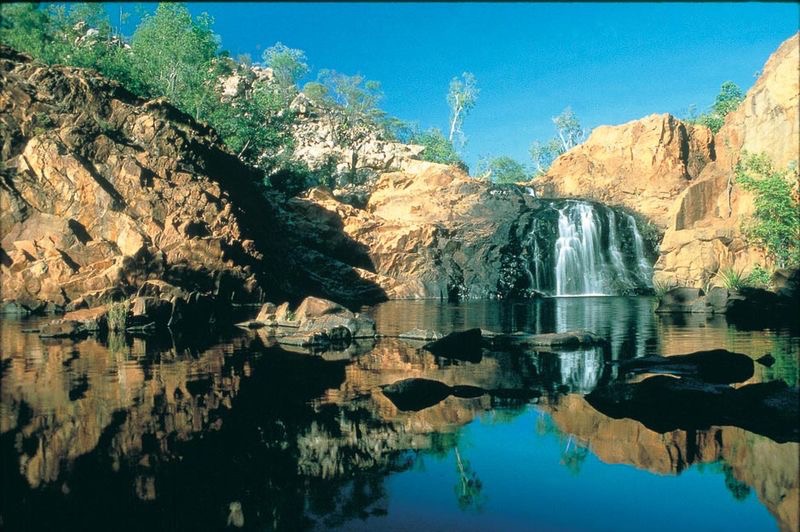 Edith Falls in Nitmiluk National Park Photo Credit: Wikipedia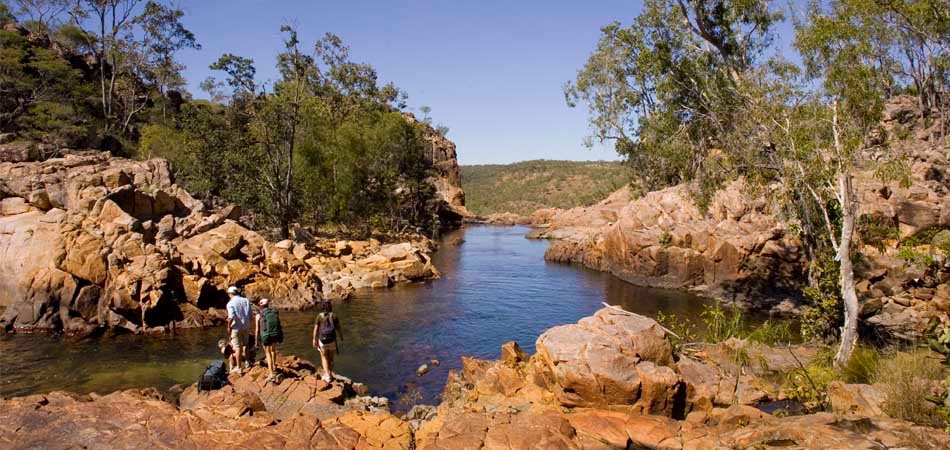 Jatbula Trail in Nitmiluk National Park Photo Credit: jatbulatrail.com.au
Day four of the Nature's Way road trip takes you from Jabiru in Kakadu south to Nitmiluk National Park, Pine Creek, and then onto Litchfield National Park. Hiking is popular in Nitmiluk National Park, especially along the Jatbula Trail. This is a 62 km trail that tours through many of the highlights and most popular scenery of the park. If you choose to stay in Nitmiluk National Park longer, camping is available in several places in the park. Other points of interest you might explore in Nitmiluk National Park include:
Katherine Hot Springs
Edith Falls
Katherine / Nitmiluk Gorge
Springvale Homestead
Cutta Cutta Caves
Butterfly Gorge
Northern Rockhole
Nitmiluk Visitor Centre
Sunrise breakfast cruise
High speed boat ride
Hire a canoe
Aerial tours of the Arnhem Land
Ancient Aboriginal rock art
Aboriginal cultural and history tours
Pine Creek is an old gold mining town. You can explore the old buildings that were built here during the gold rush of the 1870's.  You can also discover more history at the the National Trust Museum at Pine Creek, the 1888 railway station that is now a museum, or the original mining machinery in Miner's Park Bakery. That is the well-known bakery where Jimmy Ah You and his son baked bread for the soldiers during World War II. From Pine Creek, take Explorer's Way to the town of Batchelor where you will spend the night. Batchelor is right at the entrance to Litchfield National Park.
Nature's Way Road Trip Day Five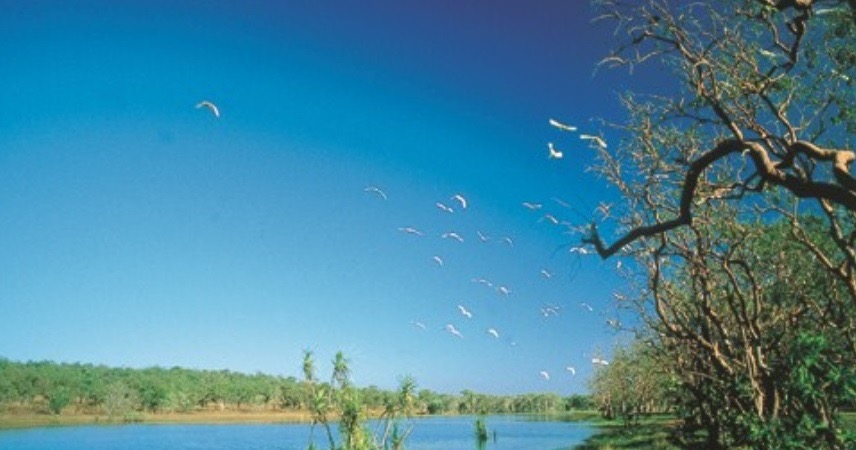 Nature's Way Photo Credit: NorthernTerritory.com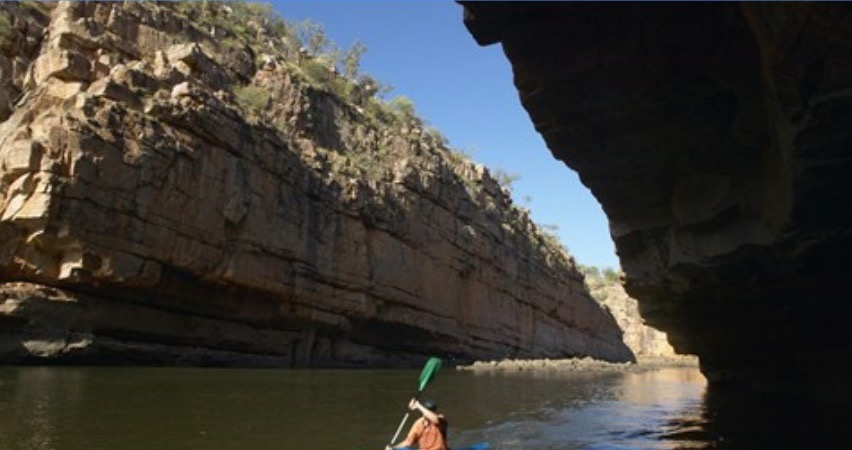 Nature's Way Photo Credit: NorthernTerritory.com
The last day of the Nature's Way road trip lets you explore Litchfield National Park before heading back to Darwin. Litchfield National Park is a clinic in landscaping courtesy of Mother Nature. Here you will find some of the most dramatic scenery in the world. Take a refreshing dip in the plunge pools at the bottom of the waterfalls. Pay close attention to the signs, the park maintains some of the swimming holes to ensure they are croc free. Some of the waterfalls to look for include Florence Falls, Wangi Falls, and Tolmer Falls. Take a relaxing wildlife cruise on the Reynolds River and see the working cattle station it borders. Once you've had your fill of this amazing naturescape, then head back to Darwin. It is just an hour-and-a-half drive back, but your memories will last forever!