Tips for Choosing the Best Gray Hue for Your Kitchen Cabinets
Over the years, gray has emerged as a much-desired color for interior design. Homeowners and interior designers alike have realized not only the beauty that gray offers as a decor element, but also the versatility that it provides in creating incredible kitchen designs. This neutral color is a ​popular option for kitchen cabinetry​, and the array of gray tones make it possible to achieve multiple design styles with gray cabinets that give either a warm or cold feeling. Gray cabinets complement just about every kitchen style and are easily paired with different design elements, from backsplash designs to appliance finishes.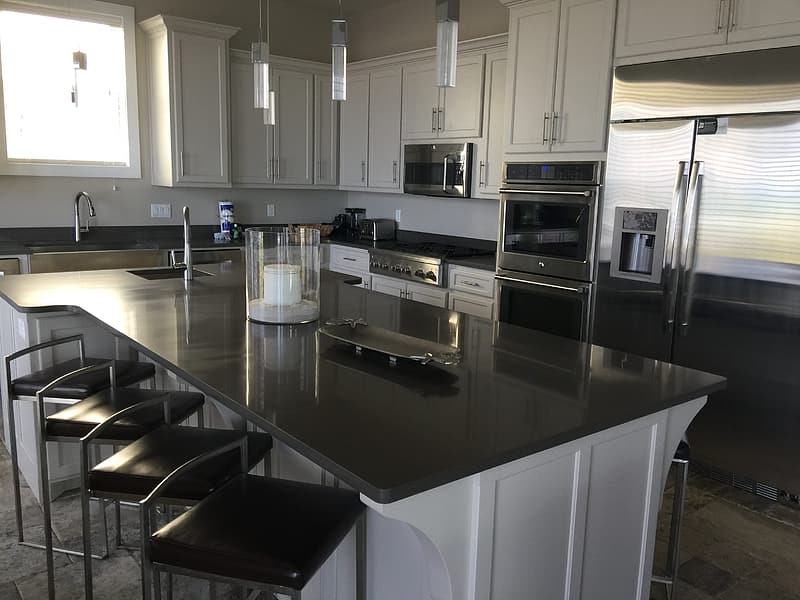 Choose Between Light or Dark Gray Kitchen Cabinets
Two things that come to mind when choosing the ideal hue for gray kitchen cabinets are personal preference and a kitchen's characteristics. A small kitchen space with minimal natural light entering it is not the place for dark gray cabinets. This would make the kitchen appear darker and smaller, which is not what you want for a space that should be warm and inviting. Keep in mind that dark gray hues absorb light, while lighter hues reflect light, helping to illuminate a space. It's best to install light gray cabinets in small, light-limited kitchens, while dark gray cabinets are great for grounding kitchens with east and west exposures.
Consider Warm or Cool Kitchen Cabinet Color
Gray is a neutral color with a lot of character. It has undertones of blues, reds, and yellows, making it an exciting color to blend with a variety of design materials. These gray undertones on kitchen cabinets serve to make the space either warmer or cooler depending on the hue selected. If you have a south or west-facing kitchen, gray cabinets with a blue undertone would look great against a tan wall, for example. Gray-purple kitchen cabinets provide a more fresh and clean look, and with a touch of brown, adds warmth to a kitchen space. Play with color samples if you are unsure about your selection so that you'll have an idea of which hue works and which doesn't quite measure up.
Make a Choice Between Painted or Stained Gray Kitchen Cabinets
Gray kitchen cabinets can be either painted or stained, which adds even more character to the cabinets. Painted kitchen cabinets are typically covered in an opaque gray hue that's crisp and even, while stained cabinets feature a translucent finish, making it possible for particular wood grains to come to the surface. Both paints and stains come in several variations of dark and light hues. When it comes to cleaning, gray painted cabinets can be easily wiped down, while gray stained cabinets tend to require a protective coating that can make cleaning easy.
Pair Gray Kitchen Cabinets With Countertop Colors
Gray kitchen cabinets are so versatile that they can be paired with most countertops and have a wow effect. There are numerous countertop materials and colors, and since gray is a neutral color, much like the typical white and brown, it's much easier to match your gray kitchen cabinets with your countertops. If your countertops are a rich, earthy brown hue, for example, warmer gray-toned kitchen cabinets complement it. For a monochromatic design of gray-on-gray, pair one shade of gray cabinets with another shade of gray countertops, streamlining the overall look of your kitchen, but with room to add colorful accents for a bit of splash.
Choosing the best gray hue for your kitchen cabinets may be simpler than you think. Do a bit of research and understand how the different hues perform in your kitchen space. At the end of the day, you'll choose the gray kitchen cabinets that you prefer and create the most appealing kitchen that you'll be happy to call your own.