5 Outdoor Activities to Enjoy in Monterey
Monterey, California, is a gorgeous Central Coast destination. With pretty beaches, gorgeous rock formations, and lots of fun activities, Monterey attracts tourists all year round. Whether you want to see the ocean floor, ride horseback, or drive an insanely fast car, Monterey is the perfect destination for you.
Play 18 Holes at Pebble Beach
Monterey is full of great golf courses, but the course at the Pebble Beach resort is known around the world. Pebble Beach Golf Links has been Golf Digest's highest rated public course for the past 13 years. If you want an insane challenge, Spyglass Hill Golf Course is one of the hardest you'll ever play. Your other options include The Links at Spanish Bay, Del Monte Golf Course, and Peter Hay Golf Course, all of which are picturesque and challenging.
Scuba Dive in Gorgeous Water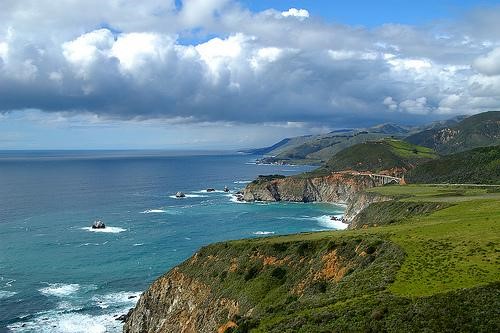 Image via Flickr by NOAA's National Ocean Service
Two major scuba destinations exist in Monterey: the Monterey Bay National Sanctuary, and Point Lobos State Nature Preserve. You'll discover dozens of spots to go scuba diving in some of the most popular diving areas on the California coastline. You usually can see 20 to 30 feet no matter the time of year. You'll find the best visibility from September to November, when you can see up to 60 feet. The water is quite chilly, but it's totally worth it.
Rock Climb at Pinnacles National Park
This national park boasts rock formations that cropped up after a volcano erupted many millions of years ago. The rock climbing here is superb, and you'll discover both easy and challenging climbing locations. Pinnacles National Park is a little out of the way, but if this is your main reason for visiting the area, you can still find Monterey hotels that put you within easy driving distance. You can easily spend several days exploring this park, so seriously consider staying near here.
Drive Formula One at Allen Berg Racing School
At the Allen Berg Racing School, you can learn to drive a Formula One car. If you're only in Monterey for a limited time, do the three-day racing school, an intensive program that teaches you all the basics of operating a Formula One car. Plus, you'll get to sit behind the wheel of one of these astounding machines and feel all that engine power vibrating through your bones.
Go Horseback Riding on the Beach
Chaparral Ranch Horseback Rides offers Western horseback riding along Monterey's beaches. If this sounds like a scene from a movie, it basically is. You can go for an hour, an hour and a half, or two hours, and the groups max out at six people. You start at Salinas River State Beach and go on one of the most majestic trail rides you've ever done. Dress for the weather, because Monterey's beaches can get windy.
How romantic does Monterey sound? Whatever thrill you're seeking for your adventurous vacation, you'll find something to tempt you in Monterey. In such a gorgeous area, outdoor activities are a must, whether you plan on getting in the chilly Pacific or trying your hand at rock climbing.