Explore the Diverse Entertainment Options in Rosemont
With a great location just five minutes from O'Hare International Airport and 20 minutes from downtown Chicago, Rosemont has quickly grown into an entertainment suburb. The village, which was only incorporated in 1956, hosts around 75,000 visitors each day. Rosemont boasts a Convention Center, lots of famous restaurants, a lively entertainment district, and great shopping and outlet malls. If you're visiting this exciting suburb, you'll find lots of entertainment options and new things to experience.
iFLY Chicago-Rosemont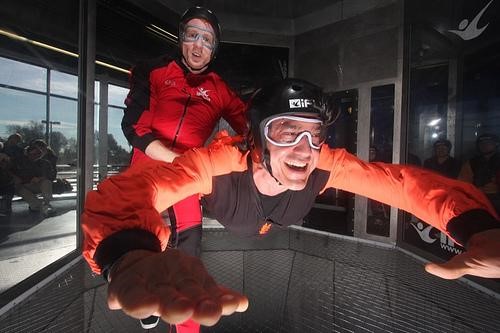 Image via Flickr by kipbot
iFLY is an indoor skydiving facility that's fun for adventurous souls of all ages. A vertical wind tunnel lets you float on a cushion of air, without having to wear a parachute or jump out of a plane. The adrenaline rush and the feeling of being suspended in mid-air are very real. After a brief training session, you'll suit up and take your turn experiencing a free fall in the wind tunnel.
King's Bowl America Dining & Entertainment
This entertainment facility covers 27,000 square feet and features 20 bowling lanes, two bars, and a restaurant. There's also a Royal Room with three full-size billiard tables and a Kings Corner with two more billiard tables and shuffleboard. The bar offers a full assortment of classic cocktails, and the restaurant features American comfort food at its finest. The decor has a fun retro style, but the equipment is all state-of-the-art, including more than 50 big-screen TVs that broadcast local and national sports.
Zanies Comedy Club
Zanies has been in Rosemont for a long time and draws well-known comics to the stage. It offers standard pub fare and cocktails for comedy lovers age 21 and up. If you visit the Zanies website and sign up for text offers, you can get discounted tickets. The club is in the heart of the MB Financial Park/Entertainment District, which is the perfect location to book a hotel in Rosemont, too.
Rosemont Theatre
This sumptuous theater hosts Broadway musicals, touring entertainers, and other productions. The Rosemont Theatre is proud of its exquisite sound system, extra-wide aisles, on-site parking, and 100 percent peanut-free environment. Watch for events featuring your favorite bands and touring shows on the Rosemont's website.
Wolff's Flea Market
Bargain hunters and explorers alike rave about Wolff's Flea Market in Rosemont. It's open all day on Sundays with a $2 admission fee and free parking. Wolff's is widely considered to be the largest and best flea market in the region, with hundreds of vendors and an outdoor location that's fun to browse. Serious vintage hunters should arrive early, as the best items go fast.
MB Financial Park
This unique venue features an outdoor space with bars, restaurants, and seasonal activities that include farmers markets, fireworks, ice skating, and movies. An 18-screen movie theater anchors the space. Some of the most innovative restaurants in Rosemont are located at MB Financial Park, and the nightlife here is first rate.
A trip to Rosemont can be a delightful getaway and an opportunity to enjoy some exciting entertainment options. Whether you prefer shopping, sports, dining, theater, or skydiving, there's something for you in Rosemont.