Things to do near Devils Tower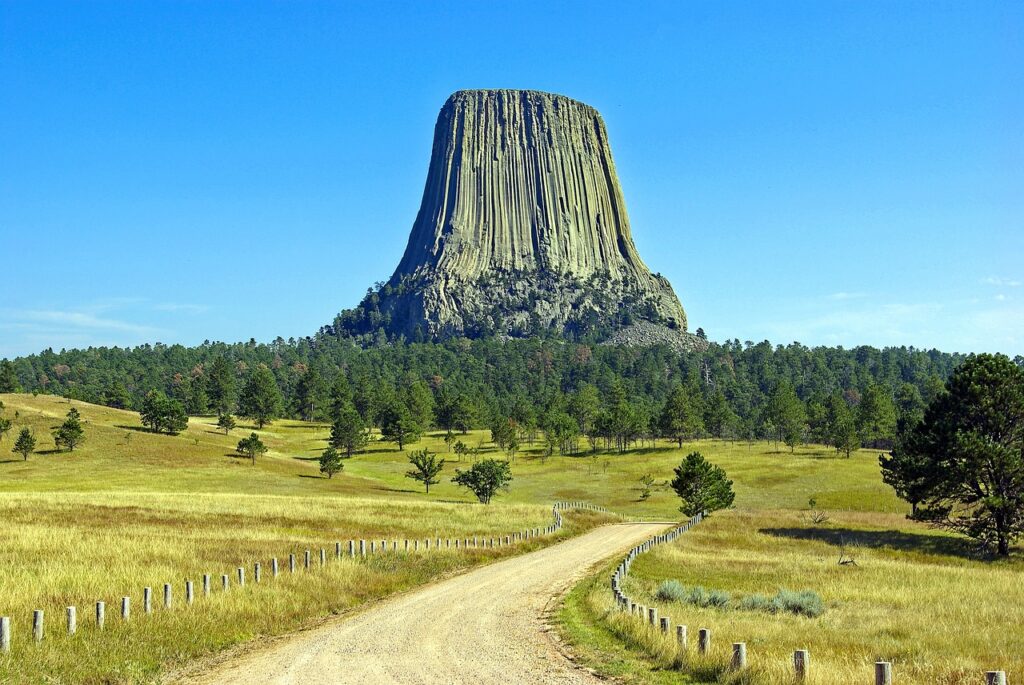 More than half a million visitors come to Devils Tower every year. When you experience the beauty of this geological phenomenon rising 1,267 feet above the Belle Fourche River in northeast Wyoming, it will become apparent why more than 20 Native American tribes call this place sacred. The views are so spectacular and different that this site was the first American National Monument, declared by President Theodore Roosevelt in 1906.
It is a place for many outdoor activities, and rock climbing is among the most popular, with 60,000 signatures of successful climbers. There is a relatively flat area with various plants like cactus, grass, wildflower, and others on top of the summit. There are traces of animals on top, and the whole tower is known for bear claws, which indicate these giant creatures often try to climb.
Those from abroad who want to explore Wyoming's majestic nature should acquire an ESTA America permit first. The travel authorization is for visitors from Visa Waiver Program countries. The ESTA application is a simple online procedure with a detailed questionnaire and a small fee. US administration usually takes around 72 hours to process the application.
Devils tower hiking 
Almost all visitors come to Devil Tower in the summer months, and you should come in early, because there is limited parking space, and you could expect crowds, especially in July and August.  There are several exciting trails around this giant rock. Walk the Tower trail loop is a 40 minutes' walk that goes around the base of the tower. In a guided course, you can learn about the history of Devils Tower National Monument.
The longest hiking trail in the park is Hike the Red Beds loop trail covering 3 miles around the rock, and it is a three-hour walk. The route takes you through the Belle Fourche River valley and a broader circle around the Devils Tower. There are numerous exceptional picture opportunities and fewer people than on the Tower Trail. 
The area is known for prairie dogs who have a town in the surroundings. South Side trail goes through the rodent's town. This trail connects the visitor center and the picnic areas. 
Devils Tower admission 
The other two notable hiking trails are Valley View and Joyner Ridge trail. As part of National Park Service sites, Devil Tower chargesan entrance fee. The new price since 2019 is $25 per vehicle for a seven-day pass. One-person entrance fee is $15, while the motorcycle fee is $20. The best value is the Devil Tower Annual Pass, with a price of $45, but only if you plan to visit at least three times. 
Devil Tower is in Crook County, and the closest towns are Hulett and Sundance. These small towns have small museums with elaborate artifacts collection that showcase the rich history of the region. Sundance is also known as a place where Old West outlaw Sundance Kid got his nickname.
Things to do near Devils Tower 
Besides visiting small towns that still look a lot like they were in the pioneer days, there are numerous essential landmarks and natural beauty in the vicinity. Bighorn Canyon National Recreation Area is in nearby Montana, some 250 miles to the northwest. Enjoy Bighorn Canyon hiking trails or take a boat on the Bighorn Lake. 
A similar distance to the south is Fort Laramie, a famous US Army outpost in the Great Prairie region. 
Much closer to the park is the Vore Buffalo, an extraordinary testament to Native American ingenuity in hunting buffalos. Excellent sinkhole hides remain of thousands of big buffalos from prehistoric times.
Black Hills National Forest and Bearlodge Mountain recreational area are two great spots to spend a quality outdoor day. Mount Rushmore National Memorial attracts millions of tourists every year, and it is within a few hours in the Black Hills of South Dakota. Look at the carved faces of George Washington, Thomas Jefferson, Theodore Roosevelt, and Abraham Lincoln. 
Visit the battlefield at Little Bighorn, where Lakotaand Cheyennes made a last stand defeating US Army's 7th Calvary in 1876. The victory did not prevent the American government and its acquiring of the Indian hunting grounds in Montana, Wyoming, and both Dakotas.
You could further explore Wyoming by going west to two essential national parks in the US, Yellowstone, and Grand Teton. But, before making any kind of reservation, check ESTA Visa status. Once you get the travel authorization, you can visit the US for up to 90 days, and you can do it in two years.
Bottom line
Devils Tower is a unique geological phenomenon, a sacred place for Native American tribes, and a great place to spend a day in stunning natural surroundings. Rock climbers that reach the summit will be rewarded with an excellent view, but so will the hikers that go around the summit and through the river valley.