6 Tips for Riding a Motorcycle Across the Country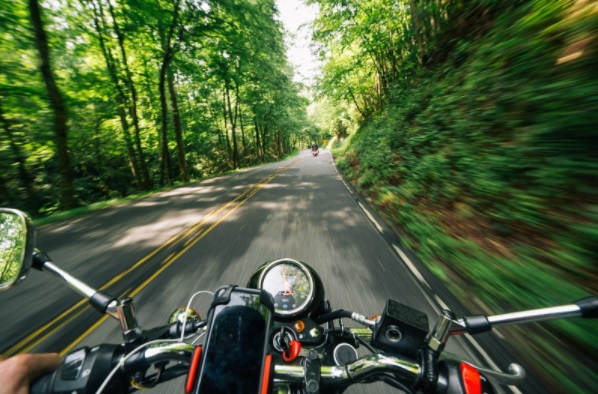 A cross-country trip on a motorcycle is the ultimate vacation for many. The United States is a beautiful country, and a motorcycle trip is one of the best ways in which to enjoy it for all its splendor. While it may sound romantic to simply go out and hop on your bike and go, you will probably have a much more enjoyable time if you take the time to consider a few things before you go.
There are steps that you should take before leaving home, and things to think about regarding what you want to get out of the trip and how best to achieve your goals.
Make Sure Your Bike Is Ready
When planning to travel thousands of miles across the county, it might be a good idea to first make sure your motorcycle is up for the adventure. You are going to want to change your oil and check your battery, brakes, and tires to make sure everything is good to go. If you really know your, stuff you can probably take care of all of the bike prep yourself. However, there is no shame in taking your bike into a shop for a tune-up.
The important thing is not to have to worry about your bike breaking down along the way, especially since you are likely to be traveling long stretches out in the middle of nowhere.
Take a Camera
With the advancement of the quality of built-in phone cameras, you may find this unnecessary. Remember, though, if you are using your phone as a GPS, then you might not want to run the battery down further by using it as a camera as well. Plus, a high-quality DSLR still outperforms anything found in a cell phone. For photography buffs, it won't even be a question. 
You are going to see some pretty incredible things while on this trip. There is something to be said for living in the moment and keeping something incredible, just for you. However, even if you don't feel the need to take a picture of every cool thing you see, chances are you will want to at least document parts of your trip to share with friends and family.
Watch the Weather
When riding on a motorcycle, you are obviously more exposed to the elements. A bike also doesn't handle as well in adverse weather conditions as a four-wheel vehicle. While it's important to bring proper clothing so that you are prepared if bad weather is inevitable, if you are able to avoid the bad weather altogether, your trip will be far more enjoyable.
Checking the weather along your route each day can be incredibly helpful in avoiding rain, snow, tornadoes, and more. If you have flexibility in time and your route, your options for avoiding bad weather open up. If not, then you checking the weather really just helps you decide when to stop for food.
For those who have time to spare, you may want to consider driving around the weather or finding a place to visit for an extended break while you wait for bad conditions to pass. 
Unfortunately, weather forecasts are not the most reliable things when viewed from days out. However, they are usually pretty accurate if you are checking them in the morning for what will happen the rest of the day ahead.
Avoid the Interstate
The interstate is great if you are in a rush. Is that really why you are traveling across the country, though? Explore the smaller highways that lie across the nation. You get more open roads and can focus more on the world around you, rather than the cars around you. You can also use these to steer around the big cities. Unless you specifically want to check out a big city on your trip, the congestion of driving through is probably not what you desire.
Pack Smart
You probably aren't going to be bringing a ton of stuff on your adventure, so it is especially important to be selective in what you do pack. A few items to consider bringing along include:
Appropriate and versatile clothing

Safety gear

Sunglasses or goggles

Earplugs

Patch kit

Small tool kit

First aid kit

Pump

GPS

Camera

Flashlight

Phone

Chargers for electronic devices
Some of these items will come in especially handy if you find yourself driving along a deserted road and run into any trouble with your bike.
Bring a Friend
Another thing that can help you on a deserted road when your bike starts acting up is a friend. Your cross-country dream might be a solo experience, but you should at least consider inviting a friend along. For most people, a compatible travel companion can take a motorcycle trip to the next level. Having someone to share this incredible experience with will likely be something for which you are very grateful.
Having a friend along can even be lifesaving in the event of an accident along an abandoned stretch of road. While motorcycles can be freeing, they can also be incredibly dangerous. In Louisiana alone, 1,193 people were injured or killed in motorcycle crashes in 2019. Source: https://onmyside.com/areas-we-serve/new-orleans-la/motorcycle-accident-lawyer/
Having a friend around who can call for help, provide first aid, take you to the hospital, or go for help if there is no cell service can make all the difference. A cross-country motorcycle trip should be the time of your life. Do everything you can to ensure that it doesn't end badly.