8 Supports That Can Be Used In Bathrooms To Avoid Falls And Injuries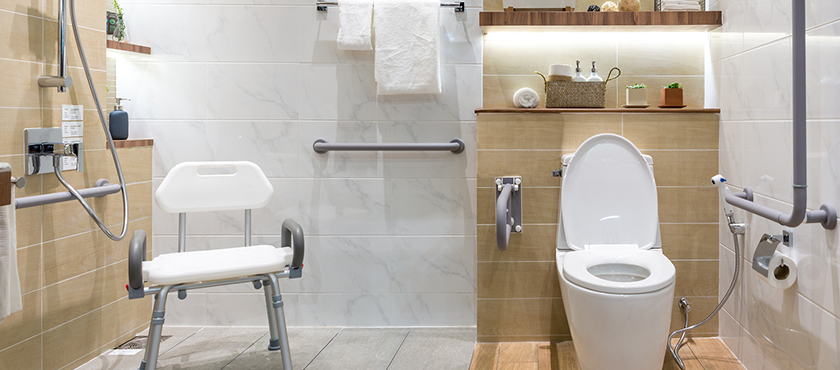 According to a website, nearly 25% of all seniors fall at least once in their lifetime. The same report says that every 19 minutes, a senior dies from a fall. Every 11 seconds, a senior is sent to the emergency room due to fall-related injuries. These are scary statistics, indeed. However, we can mitigate fall-related injuries by installing some straightforward devices in our bathrooms. These supports are cost-effective and easy to install.
1. Grab Bars
These bars can stop seniors from slipping and falling. Easy to install, these bars help them in moving around as well. Ideally, grab bars should be put within easy reach of the seniors. If your elderly is short, install these bars appropriately.
While putting these bars, please take care of two factors- colour and the slip factor. Please make sure that your senior can distinguish the grab bar. If he is above seventy, he might have vision issues. Secondly, the handlebars must be slip-resistant. Their surface must be ridged or rough to prevent slipping. Visit website here to see a great selection of grab bars.
2. Shower Chairs
If your senior is unable to balance himself, then consider having a shower chair in your bathroom. This assistive device stops him or her to slip on the floor and lets him or her relax while bathing. Many times, shower chairs slip on the bathroom surface because they are made of plastic. You can stop this by having rubber clips under the chair legs.
3. Bathroom Transfer Tubs
This assistive device lets the senior enter the bathtub effortlessly and without slipping. A bathroom transfer tub has a platform on the outer side of the tub. This platform slides down into the tub once the senior sits on it. Some bathroom transfer tubs are made in the form of simple chairs. These are meant for people who can balance themselves while getting inside the tub.
4. Ridged Mats
Another way of stopping seniors from injuring themselves is by having ridged mattresses. Made of rubber, these mats have a ridged surface which helps the seniors in getting a firm grip on the floor. Consider getting those mats that have perforations; these holes drain away excess water.
5. Walk-in Bathtubs
Some tubs are made in the form of showers. There is a door which can be opened by the senior. Once inside, he can lay down inside the tub without any fear of falling and slipping. You may place ridged mats just outside these tubs to prevent falls and injuries.
6. Raised Toilet Sheets
You may consider installing raised toilet sheets for your seniors. This way, they don't have to lower down themselves on the toilet seat. Get the grab bars on either side of the toilet seat so that they can raise or lower themselves down with ease. Raised toilet seats are meant for those seniors who can't balance themselves. These people also have very little strength in their thighs and calves.
7. Shower Caddies within easy reach
Another way to protect seniors from injuring themselves is to install shower caddies within easy reach. Things like soap, shampoo, shaving cream, etc. should be within easy reach of the seniors. Please mount shelves on the walls by drilling. Suction-based caddies can easily fall down and even hit the legs of the seniors.
8. Right Lighting
Please remember that your senior may have failing eyesight. In that case, your bathroom lighting should be such that he can find his way around the bathroom. Lastly, you may like to have a phone inside the bathroom. During an emergency, the senior will find it useful.